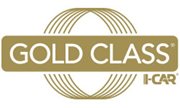 Gold Class® Insurance
Gold Class® for Insurance represents the achievement of progressive levels of training in I-CAR's Professional Development Program for Auto Physical Damage Appraisers (APDAs). The knowledge and skills taught can be immediately applied to increase CSI scores, improve operational efficiencies, and minimize repair mistakes.

Insurance businesses may
achieve Gold Class at the corporate/company level or at the office/business location/department level. To achieve Gold Class, 60% of an insurance business' appraiser staff must achieve at least Platinum ProLevel 1 designation.

After completion of each ProLevel, I-CAR typically allows employees 12 months to complete the next level of training. However, because a business may have multiple employees at various ProLevels of training, I-CAR simplifies renewal dates by designating one annual renewal date for the entire business - the date when 60% of its Auto Physical Damage Appraiser Role Reps complete their ProLevel 1 training.

The Insurance Gold Class program was developed with industry input and flexibly to accommodate employee turnover and helps align Gold Class requirements with individual employee tasks and career development. Fewer appraiser staff members are required to achieve I-CAR ProLevel 2 and ProLevel 3; a greater number of appraiser staff will achieve ProLevel 1.

To ensure your business is up-to-date with Gold Class recognition requirements, please follow the chart below which refers to renewal requirements for grandfathered Gold Class businesses:


Contact insurance@i-car.com for more information on achieving Gold Class Insurance recognition.