New Issue Now Available!
I-CAR's Technical Team & Capabilities
2022 SPECIAL ISSUE
This special issue of Collision Reporter is devoted to I-CAR's technical capabilities, resources and capacity, leading the future for the collision repair inter-industry.
In this issue you will find:
What's Driving the "Technical Tsunami"- A Quick Look
Urgent Needs Demand World-Class Knowledge, Skills & Solutions
Rooted in Technical Capabilities; Appleton Technical Center a Steady Anchor in I-CAR's Technical Offerings
The Future is Here; a Look Inside the Chicago Technical Center
…and much more!
PREVIOUS ISSUES
2022 Issue 19
The Customer Issue
2022 Issue 18
The Collaboration Issue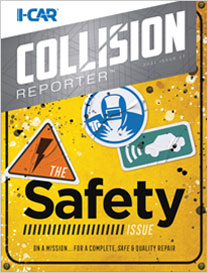 2021 Issue 17
The Safety Issue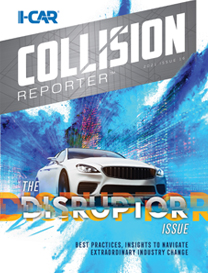 2021 Issue 16
The Disruptor Issue
2021 Issue 15
The Electrification Issue
2020 Issue 14
The Technician Takeover Issue
2020 Issue 13
The Virtual Issue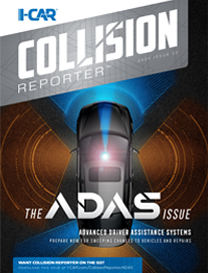 2020 Issue 12
The ADAS Issue
2020 Issue 11
The New Era Issue
2019 Issue 10
The Talent Issue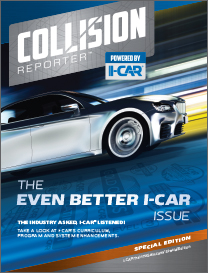 2019 Special Issue
Special Edition
2019 Issue 9
The Vision Issue
2019 Issue 8
40 Years in the Making
2019 Issue 7
Business Performance
2018 Issue 6
Recalibrate
2018 Issue 5
Training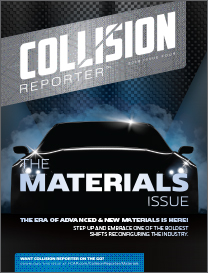 2018 Issue 4
Materials
2018 Issue 3
Knowledge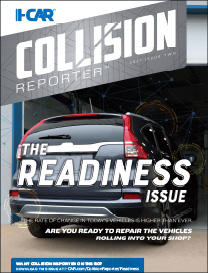 2017 Issue 2
Readiness
2017 Issue 1
Diagnostics