I-CAR'S Collision Reporter™ is a quarterly magazine dedicated to helping navigate the rapid changes happening within the collision repair industry, providing exclusive insights, resources and solutions.
Advance your career and business with the knowledge gained from each issue.
Also, make sure to check out The Online Journal Blog here.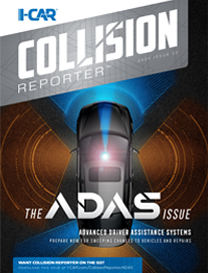 Current Issue
2020 Issue Thirteen
The ADAS Issue
2020 ISSUE 13
The ADAS Issue
This issue of Collision Reporter is all about Advanced Driver Assistance Systems. In this issue, you will find:
A "Crash Course" in ADAS Growth
Ask RTS: Staying Ahead of Technology is Key in Evolving Collision Repair Landscape
Driving the Conversation Panel: How ADAS is Affecting the Collision Repair Industry – Today and Tomorrow
Business Tools and Tips: Training Matters
I-CAR 2020 Conference
What's New at I-CAR
…and Much More.
---
PREVIOUS ISSUES
---