New Issue Now Available!
The Welding Issue
2023 Issue 22
This issue of Collision Reporter is about welding news, tips, and information. In this issue, you will find:
One Way, Shape or Form - Veteran Welder "Never Assumes" When It Comes to Safety
Business Tools & Tips: Welding 101 - What to Know, Where to Begin
10 Tips to Tune the Welder and Tune the Welder
Women Who Weld
…and much more!
PREVIOUS ISSUES
2022 Issue 21
The Emerging Technologies Issue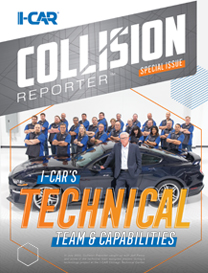 2022 SPECIAL ISSUE
I-CAR's Technical Team & Capabilities
2022 Issue 19
The Customer Issue
2022 Issue 18
The Collaboration Issue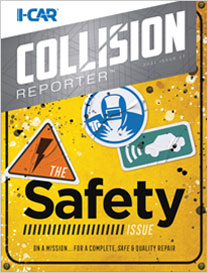 2021 Issue 17
The Safety Issue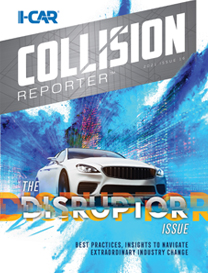 2021 Issue 16
The Disruptor Issue
2021 Issue 15
The Electrification Issue
2020 Issue 14
The Technician Takeover Issue
2020 Issue 13
The Virtual Issue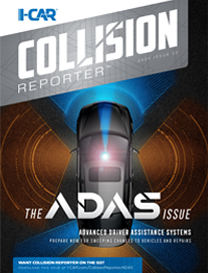 2020 Issue 12
The ADAS Issue
2020 Issue 11
The New Era Issue
2019 Issue 10
The Talent Issue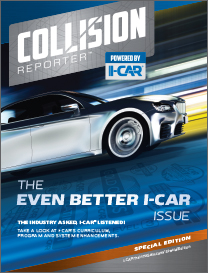 2019 Special Issue
Special Edition
2019 Issue 9
The Vision Issue
2019 Issue 8
40 Years in the Making
2019 Issue 7
Business Performance
2018 Issue 6
Recalibrate
2018 Issue 5
Training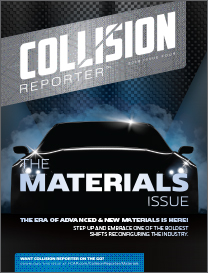 2018 Issue 4
Materials
2018 Issue 3
Knowledge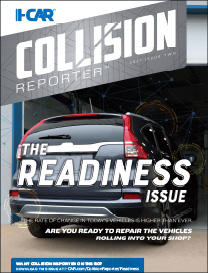 2017 Issue 2
Readiness
2017 Issue 1
Diagnostics