Enter the Repairers Realm, a live web series where I-CAR's technical experts talk shop with you and make sense of information overload on all topics related to collision repair. These episodes include everything from multiple part series on more extensive repairs, to one-off episodes featuring a specific vehicle.
I-CAR Subject Matter Experts kick off each episode at the news desk, then move the conversation into the shop for detailed, how-to-demos. During the demos, you'll see collision pros from various industry segments provide step-by-step instructions on the latest procedures to make safe, complete and quality repairs.
Listen to their discussion, pick up tips from their demos and get your questions answered in the Q&A session at the end of each episode. Join the live sessions each month to get your questions answered in real time by our I-CAR experts.
It's an online series for repairers with repairers. Don't miss it! Check the schedule for the next topic for discussion.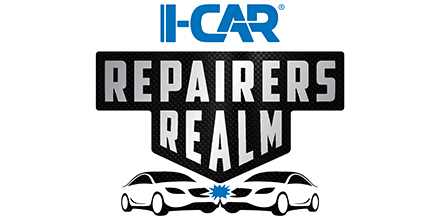 NEXT IN THE SERIES
---
Check back soon for more upcoming episodes.
---
Ford Mustang Mach-E Emergency Response Guide
Original Air Date: October 26, 2022
Length: 0:26:28

In this month's episode of Repairers Realm, our I-CAR experts and special guest Gerry Bonanni from Ford, discuss Ford's Mach-E Emergency Response Guide (ERG). During the presentation, a live vehicle was used in conjunction with the ERG navigation for visual reference. Watch to hear the experts as they explain the warnings, vehicle structure and more.
---
Chicago Technical Center (CTC) Shop Overview
Original Air Date: September 28, 2022
Length: 0:34:25

This month, I-CAR is taking you on a tour of their new Chicago Technical Center (CTC) in Vernon Hills, Illinois. Watch the video now to see an overview of the facility, research, training and development work that will be conducted at this facility. The CTC is designed to put students in real-world scenarios where they can learn in a safe environment with expert instructors, all of the appropriate tools, equipment, and space.
---
F-150 Outer Panel Box Replacement
Original Air Date: Aug 31, 2022
Length: 0:26:08

In this month's episode, Gerry Bonanni from Ford Motor Company joined our experts to discuss an outer box panel replacement on a Ford F-150. Watch our recorded live stream to see what technical questions were answered by Bonanni and our experts, and learn how to properly execute an outer box panel replacement on a Ford F-150.
---
Plastic Repair Series: Part Three
Original Air Date: July 27, 2022
Length: 0:33:28

Description: John Wilburn from Polyvance shares his expertise in repairing plastic headlight tabs in this final of a three-part plastic repair series. Get step-by-step instructions for a variety of repair methods and techniques, which we'll demonstrate on different headlights. Watch our recorded live stream so you can hear the plastic repair questions answered by our experts.
---
Plastic Repair Series: Part Two
Original Air Date: June 29, 2022
Length: 0:33:04

In episode two of our Plastic Repair Series, John Wilburn and our I-CAR experts complete the bumper repair that was started in episode one. Learn the steps needed in order to properly perform a plastic weld on a bumper cover and hear some of the questions our experts answered for the live-stream audience.
---
Plastic Repair Series: Part One
Original Air Date: May 25, 2022
Length: 0:33:51

John Wilburn from Polyvance joins our I-CAR experts to demonstrate some plastic repair tips and techniques. This discussion covers the importance of plastic identification, and the welding techniques needed for basic repair. This demonstration also shows the difference between polypropylene and polyethylene, and what it looks like when they are welded to the wrong plastics. "Start out with light damage," says Wilburn, "and you're going to feel more confident from there."
---
Audi EV Awareness
Original Air Date: April 27, 2022
Length: 1:15:49

I-CAR experts tap into the electric vehicle (EV) knowledge of guest Mark Allen of Audi. The rising number of EVs on the road make this an exciting time for collision repair, Allen says, but technicians and adjusters need "to change behaviors." Discussion covers safety protocols, proper tools and safety equipment for working on high-voltage vehicles. Some procedures like de-energizing vehicles should not be attempted, Allen says, and left to Audi-trained HV technicians at dealerships. "Be in contact with your fire department and zoning department so you know what is appropriate in your municipality," Allen advises, "and also with OSHA."
---
Spray Booth Cleaning and Prep / Paint Defect Removal
Original Air Date: March 30, 2022
Length: 0:37:26

In this second episode in our refinishing prep series, experts from Saint-Gobain and I-CAR focus on reducing contaminants that can cause paint defects. Cleaning and preparation of a spray booth is demonstrated, and tips are given on some overlooked areas like draining compressor tanks and air hose replacement. Removal of paint defects is also covered, with a demo on how to keep the repair as small as possible.
---
Preparing a Vehicle for Refinishing
Original Air Date: February 23, 2022
Length: 0:35:15

Experts from Saint-Gobain and I-CAR prepare you for success with a discussion on the steps and importance of preparing a vehicle for refinishing. Learn why a clean prep area is essential and what tools and materials are needed. Get tips on masking and an overview of recommended tools such as mobile dust extraction, perforated sandpapers, anti-static wipes, and more.
---
Steering and Suspension Diagnostics
Original Air Date: January 26, 2022
Length: 0:38:19

I-CAR experts review steering and suspension diagnostics from a collision perspective. Their discussion covers inspection of electronic and mechanical parts, with a close look at low-friction ball joints. They explain how to identify damage and diagnose steering and suspension-related symptoms like driveability issues and tire wear. They emphasize that following OEM specs will avoid improper and unsafe repairs.
---
Steering Angle Sensors (SAS)
Original Air Date: December 29, 2021
Length: 0:42:29

Wrapping up a three-part series on the electrification of steering and suspension, I-CAR experts take a deeper dive into the steering angle sensor (SAS). They will identify possible locations of the SAS and look at live data using a diagnostic tool on a vehicle. Other topics that will be covered include misalignment; how the SAS ties into several systems, from stability control to ADAS; and potential consequences when they are not reset.
---
Electronically-Controlled Steering Systems
Original Air Date: NOVEMBER 24, 2021
Length: 0:30:28

In our second episode of the three-part series on electrification of steering and suspension, I-CAR experts continued the discussion on the electrification of steering and suspension in the second of a three-part series. An informative presentation, including a vehicle demo, covers the design, operation, and the service and diagnostic considerations of electronic steering systems. Topics you may not think about in collision repair is discussed with a focus on active returns, electrical end stops, steering angle sensors and the importance of using the correct diagnostic tool when programming.
---
Electronically Controlled Ride Dampeners (Shocks and Struts)
Original Air Date: OCTOBER 27, 2021
Length: 0:23:28

Our October 27 episode kicks off a three-part series on electrification of steering and suspension. As vehicle manufacturers continue to improve ride comfort and handling capabilities, advanced technologies are added to model lineups. This initial episode in this series discusses vehicle ride control through the use of electronically-controlled shock absorbers and struts. Variable viscosity fluid and variable valve type methods also will be discussed as well as repair and diagnostic considerations.
---
Honda Laser Brazed Roof Replacement
Original Air Date: SEPTEMBER 29, 2021
Length: 0:51:27

I-CAR Subject Matter Experts will be joined by special guest Scott Kaboos, National Assistant Manager, Collision Repair Training and Technology. On this episode, we will showcase a Honda laser brazed roof replacement. Our team will highlight some of the parts and procedures commonly overlooked during the damage analysis process. We will also provide clarity on the attachment methods required when installing the replacement part, including prep and installation of the mounting tabs on the vehicle structure.
---
Pre- and Post-Scans and Programming
Original Air Date: AUGUST 25, 2021
Length: 0:49:31

You've heard them referred to "computers on wheels" and the modern vehicle technology you're seeing on the road and in shops today require a pre-scan of their computer network to identify where the repair work is needed. However, the data is of no use without a knowledgeable technician or team of technicians to interpret and act on it. Donny Seyfer from the National Automotive Service Task Force (NASTF) is our guest for this ADAS-related conversation. (Donny Seyfer / NASTF)
---
Glue Pull Repair (GPR)
Original Air Date: JULY 7, 2021
Length: 1:46:05

What are the benefits of Glue Pull Repair (GPR) when compared with alternative paintless dent repair methods? Discover why GPR continues to gain popularity in collision repair. Chris White, President of KECO Body Repair Products, joins the I-CAR team for our inaugural episode and LIVE Q&A session.
---
EV Summit Recap & Best Practices
Original Air Date: JULY 28, 2021
Length: 1:03:26

EVs is one trend you can't afford to play catch up on – the learning curve is too high and proper procedures are critical for your personal safety. I-CAR recognized a need for an industry-vetted best practices for disconnecting high-voltage (HV) systems when the OEM has not published a position statement or vehicle-specific information. In this episode, I-CAR's experts review key information on the critical HV disconnection step. You will be working on EVs, so it's all relevant to your job: the step-by-step procedures for battery, service and diagnostic tool disconnection; measurement techniques for vehicle initialization; and safety precautions.