The Audi Authorized Collision Repair program requires facilities to obtain and maintain I-CAR® Gold Class® designation. The I-CAR Gold Class designation ensures that professionals are trained to have the knowledge and skills required to provide customers with efficient, safe and high-quality collision repairs.
Image courtesy of Audi.
To support the owners' expectations for a higher level of service, the Audi Network will require that in addition to Gold Class recognition for the repair facility, Platinum™ ProLevel 3 must be achieved by at least one (1) technician in each of the following collision repair roles:
EV and ADAS Course Requirements
Audi of America as part of their commitment to electrify their fleet and increase ADAS technologies to benefit the customer, the following courses are required for new and certified shops.
Hybrid, Electric, and Alternative Fuel Vehicle Service
Online, 45m
Required for All Job Roles
Hybrid Vehicle Identification and Damage Analysis
Online, 1h
Required for Estimators and Structural Technicians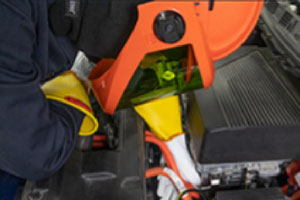 Understanding High Voltage Safety
Online, 45m
Required for Estimators and Structural Technicians
Windshields and Advanced Driver Assist Systems (ADAS)
Online, 45m
Required for Estimators, Structural Technicians and Refinishers
Audi Authorized Collision Repair Program Training Path
The following I-CAR training courses are required for all NEW shops applying to the Audi program. Audi recommends that you review and apply the courses below to your organization.