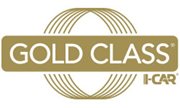 Gold Class® Policy
Gold Class® Policy
The requirements for Gold Class vary by segment. Select the Gold Class recognition for your segment below to learn more:
Gold Class Collision Repair
Gold Class Insurance
For a business to be eligible for achieving and maintaining Gold Class, it must disclose all employees and accurately reflect job roles.
All Collision Repair Gold Class businesses are automatically published in I-CAR
®
's consumer-facing locator which is accessible at
Bodyshopology™
. Gold Class business information is shared with a third-party data manager. The third-party vendor stores, sorts and displays Gold Class tenure and shop information on
Bodyshopology.com
.
Businesses will need to successfully renew, on an annual basis, to be eligible to use the Gold Class designation. The requirements for being recognized as a Gold Class business are subject to change with notice. If for any reason, the facility no longer qualifies for Gold Class, the facility must refrain from using any Gold Class logo or Gold Class branded materials and the facility's information will be removed from bodyshopology.com, I-CAR's consumer-facing website and collision repair facility locator tool. Any business that is not Gold Class and represent themselves as a Gold Class recognized facility could be subject to legal action.
Program and Gold Class Trademark Ownership
To protect and monitor the use of the Gold Class mark, I-CAR retains the rights and ownership of all program materials provided for promotion. These materials are licensed at no cost to businesses who meet the requirements of the Gold Class recognition program. All program materials, including signage, advertising, logos or other promotional materials, are the property of I-CAR and protected under the copyright and other laws of the United States and the individual states and in other countries by international treaty provisions.
If a business loses Gold Class qualification, I-CAR will notify location of such loss of qualification and request branded materials be returned/removed. The business that has lost Gold Class qualification shall immediately cease use of all Program materials and return the "Gold Class" plaque and all other Program materials to I-CAR no later than ten (10) business days after the date of such termination and/or written notice from I-CAR. If business does not comply, additional enforcement steps will be taken, up to and including legal action.