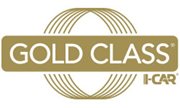 Gold Class® Collision Repair

Your customers are the lifeblood of your business. When they entrust you with their vehicle repairs, they are putting their lives and the lives of their loved ones in your hands.
Make sure your customers drive off in a properly repaired vehicle, by providing your collision repair technicians with the knowledge and training needed for complete, safe and quality repairs.
Why Gold Class is Important
The collision repair industry is being flooded with sophisticated new technologies and cutting-edge vehicle advancements. Continuous training keeps repair technicians up-to-date on the latest vehicle models, technologies and repair methods, which leads to a positive repair experience for consumers, as well as contributing to a complete, safe and quality repair.

Becoming Gold Class demonstrates to your customers, your staff and the industry that your shop is committed to the highest standards of professionalism and quality in collision repair.


Get Started
To earn the Gold Class recognition,
businesses must achieve and maintain a high level of role-relevant training across each of the major collision repair roles. This is measured when all role representatives achieve ProLevel 2, earned through I-CAR training or approved industry training providers. Scalability to the shop size ensures every shop has an equal percentage of trained professionals.

Platinum recognition will be achieved when ProLevel 3 is completed. Platinum status is maintained with the completion of required Annual Training courses for each year of renewal.

To maintain Gold Class, an organization must continue to develop the knowledge and skills of its staff to advanced levels. This is accomplished by progressing Role Reps through the ProLevels® of I-CAR's Professional Development Program™.

Structural Technicians
Two Hands-On Skills Development courses are required each year.
Annual Training
For all non-role representatives, or for role representatives who have completed ProLevel 3, annual training is required. Annual training consists of six core curriculum, Vehicle and Technology Specific Training™ or Industry Training Alliance™ courses every year.
Advantages of Being a Gold Class Shop
Receive a Gold Class kit packed with tools to differentiate your location as a Gold Class organization.
Eligible to purchase a training subscription for all shop employees, which includes unlimited live, virtual and online courses.
Receive discounted pricing on I-CAR courses not included in training subscription.
Access to technical information via I-CAR's Repairability Technical Support (RTS) portal.
Listed as a Gold Class shop on Bodyshopology, an online resource for consumers to search for a nearby collision repair facility.
Submit questions to I-CAR's technical support team or search common inquiries online with Ask I-CAR.
Contact our Customer Care Center at (800) 422-7872 to start training to achieve Gold Class recognition!