Welcome to I-CAR's Advanced Driver Assistance Systems (ADAS) Resources hub featuring a wide array of information for everyone from a beginner who wants to decipher the ADAS alphabet of acronyms to the technician researching the connection between ADAS calibrations and wheel alignments to the learner who wants to see available ADAS courses from I-CAR.
ADAS Technician Role Now Available!
Every role in the collision repair facility is affected in one way or another by ADAS technology. Prepare yourself with ADAS knowledge and skills when you choose the ADAS career path now. This is an optional role that contributes to complete, safe and quality repairs.
Learn More
A variety of ADAS courses are currently available in our course catalog. New ADAS technology courses are in development and will be added when ready to meet the growing need for students to learn about this advanced technology!
Ford ADAS Calibration 2-Day Hands-On Skills Development
Hands-On, 16h
Static ADAS Calibration 3-Day Hands-On Prerequisites
Learning Plan, 9h 15m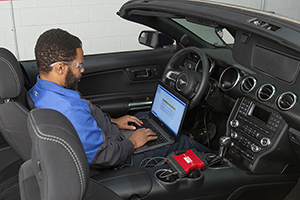 Ford ADAS 2-Day HOSD Prerequisites
Learning Plan, 17h 20m
Ford ADAS 5 Course Package
Learning Plan, 5h 45m
Dynamic and Static Calibrations - What's the Difference?
Many advanced driver assistance systems (ADAS) require either a DYNAMIC calibration or a STATIC calibration followed by a dynamic calibration. These procedures are not interchangeable and require a trained professional who follows OEM procedures.
Note: Always follow OEM procedures, especially when it comes to calibrating ADAS, to ensure a complete, safe, and quality repair.
Read more about the difference between dynamic and static calibrations.
ADAS Videos
Watch industry experts discuss complex advanced vehicles rollling out with more ADAS features than previous makes and models. Discover how collision repair is impacted by this growing ADAS technology.
Podcasts
Listen to experts discuss Advanced Driver Assistance Systems technology.